alien productions

August Black, Martin Breindl, Norbert Math, Andrea Sodomka
GATE
ways
on site und on line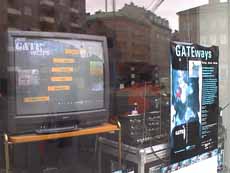 Electroacoustic projection onto Siebenbrunnenplatz, the entire day; no overpowering streams, but various sound locations, best possibly integrated in the environment. A soundscape generated from the typical sounds of this location, conversations with inhabitants, mixed with the live sounds from selected locations around the world.

The acoustically transitory material: the diversity of human voice in different languages, the coloring of voices, dialects and ways of talking, that are typical for this location. The recordings and sounds were electronically treated and played in a special live-mix on the square - changing throughout the day to the pulse of daily life roundabout, continuously deriving new sound situations.







Johann Pinter and Vocalgestöber

Sound performance KlangSchauPlatz (sound theater square)
on site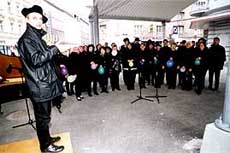 The entire Siebenbrunnenplatz became a stage of action for (musical) performance, that worked with human voices and a collection of instruments as a means of composition. Not a central stage, but spread out over the entire square, where actions surfaced every two hours. Physical manifestation of a global situation.
ORF Kunstradio
alien productions
GATE
ways
on air und on line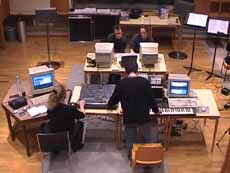 The first live manifestation of the project took place on the sunday before the event. In the studio, the artists from Alien Productions scanned the internet for thematically congruant sounds, and, as "WebJays", mixed the found material live with the audiostreams of the on-line partners. The groundwork for the event wasn't formed from prepared material, but from attentive and sensitive reaction to a here-and-now situation of a global network, that is comprehended in a constant state of change.
on air
The editors from Radio 1476 engaged themselves journalistically with the theme and peripherie of the event. They constructed five-minute contributions, that were played between broadcast for a week. During the event, they made recordings that were put on-air in the evening.
This event was organized by