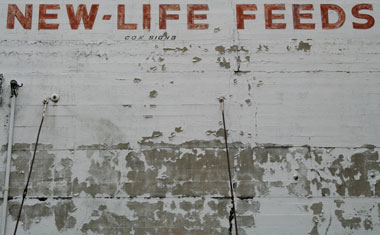 During their stay as artists in residence at UMAS in Durham, alien productions created a "Canadian" version of their ongoing project: The Well-Tempered Kitchen. The performance took place at the Symphony Barn on Sept. 4th, 2005, as part of the closing event of The Fabulous Festival of Fringe Film and was followed by local alt-cabaret band Gigi Minor, performing some of their original music in front of specially commissioned films by Myke Dyer, Ilse Gassinger, Philip Hoffman and Iriz Paabo.
Durham is a typical small town in rural Ontario, with some 2,500 residents. This makes it a perfect location for The Well-Tempered Kitchen with its main topic, the "serialisation of everyday life". The live-performance points at such "trivial" situations as the kitchens of a small town and projects the private space into the public – using common life situations as stage set and everyday actions as theatrical gestures. In previous manifestations of the project, we had asked the inhabitants of the respective cities to send us photos of their own kitchens, but this time we took the pictures ourselves – thus literally becoming "visiting artists", visiting not only the town, but also its private homes. As always alien productions decreed these kitchens pieces of art by certificate.
The photographs were edited into a sequence and projected as large scale video-loop – the backdrop for the live event. In front of the projection was a simple kitchen containing hotplates, cutlery, pots and frying pans. All these served as instruments for cooking as well as for producing sounds.
As "typical Canadian cuisine" is a mixture of styles from all over the world, brought to this land by ancestors, settlers and immigrants, we decided to contribute to this tradition by cooking a typical Austrian meal during the performance. The sounds of chopping, slicing, frying and cooking, fed into a computer and electronically looped, edited and re-processed, may sound new and uncommon. The taste of the meal however, consumed by artists and public together after the show, remains traditional – the "good old home cookin' country style" ...
Thanks to: Ilse Gassinger for organisation, Geoffrey Shea for technical support and Norman White for making an interface-box.