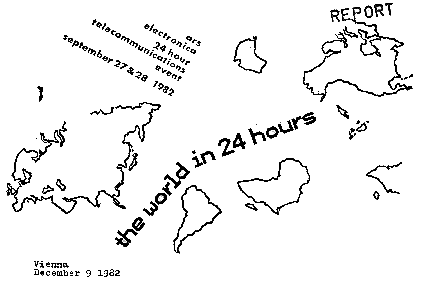 ---

Vienna, December 9, 1982

It is now just over 2 months since "THE WORLD IN 24 HOURS" project took place and this report completes, finally, the documentation. The enclosed material, including copies of telefax pages, photos of SSTV images, descriptions and photos of the activities in Linz during the project, and a nearly complete copy of "ARS CONFERENCE" on the I.P.Sharp network, is a selection from all the material we received during the 24 hours. We also have over 2 hours of U-Mativ Video tape which will be edited to about 20 minutes. Dubs of this tape are available to anyone interested for the cost of tape and dubbing time.

The strain of 24 hours of non-stop activity on people and equipment is obvious in the uneven quality (and quantity) of the enclosed material ... some things didn't get recorded or photographed ... the sound recording equipment broke down ... the person with the camera went home to bed, with the camera! ... we ran out of video tape in the middle of the night when everything was locked ... one telephone died and another got very neurotic in the early morning ... we all forgot and lost things, including telephone numbers.

But on the whole it was a successfull experiment. We learned a lot ... for one thing, we learned that most things, including people are not designed for non-stop, 24 hour, activity. But we also learned that such a project is possible and that the next one will be even better given the experience we now have.

There are, of course, many things we would do differently if we had to do it all again but three things stand out:
More time for preparation. We had 9 months but it needed at least a year.

Better audio recording equipment. The ORF (Austrian Radio/TV) supplied excellent sound equipment but the wrong tape deck. We should have paid a lot more attention on this point.

More telephones. We had 3 lines but needed 5. For a total telecommunications experience you need all the media working at once ... plus a communication line for emergencies.
Telecommunications, by artists or anybody, only gets really exciting when carried out on a global scale. But the price of global scale telecommunications projects is all the pain and problems of language and cultural differences, time zones, networking and night-working. On balance I think it is worth it ... looking through the material we received one can feel a new kind of art developing, a new medium. Its a very exciting feeling.

Lets do it again soon!

Robert Adrian X



This documentation has been made possible by the cooperation of the 3M company and the Österreichische Kultur Service.