I spent two days collecting material for street (e)scape, both photos and sound. Andrew Thomas from Toy Satellite assisted with camera in hand capturing the landmarks of Smith Street and some of the new developments on Brunswick.
Many more days were spent dicing, carving and listening to audio files in preperation for GATEways during which time I was often reminded of R. Murray Schaffer's book, The Soundscape, in particular his comments about noise pollution. He suggests that a solution to the world's growing problem with noise pollution would be a "world-wide energy crisis". That would fix it for sure!
The greatest enemy of the urban sound artist is the car. It was wind till I made wind my friend, but the car remains my greatest foe. In compiling streetscapes for the netcast, it become impossible to discerne the difference between a Melbourne street or one in Milan for that matter.
What gives each place the character that is discernable in the context of sound, is more often than not, the people that create these environments themselves... and at the heart of people is communication, and at it's apex is the imperfect medium of language. A friend once remarked that "language is dead", but in sound and in listening we may yet rekindle that which many in the so called civilised world have come to dread... wonder!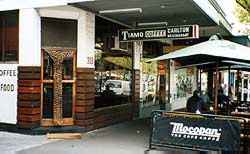 Lygon Street
It was a warm Monday afternoon when I left the studio to walk the several blocks to Lygon Street. I hadn't done this one for a while so I was prepared for a kind of Lygon Street refresher.
Lygon Street - resilient despite the emergence of the mall, poker machines, questionable cafes and inflated real estate. Life here has the appearance of being vibrant, more stimulating, but in lesser amounts. Perhaps it's the illusion of public place created by the extended footpaths which are home to the latte fixated patrons of the numerous cafes and restaurants that seduce the passerby.
La Mama is powering with eccentric will, propelled by its own presence and the vortex of expression and creativity it is host to. It's a perfect day for sound.
After leaving La Mamas I was drawn to Tiamo's - coffee, time out, observing the process of energetic pastimes or a comfortable nook. Tiamos displays these and other fine attributes of the Italian café I had come to enjoy.
A photo of a young, moustached Paul Hogan in a turban beams at the bar seated clientele. A smile from a this man's youthful past, a brief encounter with Melbourne on his stairway to Hollywood.
The coffee is rich and aromatic, tasteful without a hint of milk despite the latte I have clenched before me. That's how I like it - with body - a perfect blend of fluids. A fine brew and well worth the walk from Smith Street. Next stop Brunswick Street. I'll photograph the Planet Café, Punters Club… tired already.
Tiamos - cups, plates and spoons shuffled hurriedly away in their worn out trays, shelves and containers - the staff weave about like dancers, performing repetitive tasks with grace and precision. Time to go…
Damn! The agony of the sound artist is finding the recorder on pause. Regrettably, another coffee, stomach palpitations… I know I won't recapture the owner singing, the banter and exchanges that were so engaging between staff and clientele… It's a pity… the singing was to be the most exciting part of listening back to these tapes… he's changed the menu and left the bar for the kitchen.
A quarter of the way into the second coffee and I'm feeling mellow. I recall this mood from Sydney, sitting at Café Black or the Bookshop Café - that feeling of uncertainty and dread, of thoughtfulness and fear. These were the moments I found comfort in Satre's early writings, but these days I can barely read a chapter of Iron in the Soul. In some ways I've changed little, just oppressed myself more…
After leaving Tiamos I took some photos of Jimmy Watsons, perhaps one of the finest wine bars in Melbourne. It has a tradition of being host to the city's literary community, some of which had carved out their names in the interior woodwork of the bar. A soundscape over lunch would be one to keep in mind.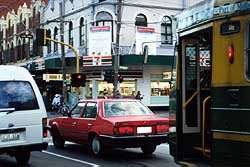 Brunswick Street
I headed down to Brunswick Street via Johnston, the specter of the Carlton housing commission apartments to my left. I recall first coming to Melbourne people telling me of the suicides there and of the baby that had fallen or been thrown. It survived a three story drop. Others didn't.
Johnston Street is infamous for Melbourne's Spanish quarter, once raw and fecund, vital and daring, now tainted by discos appealing more to the bored middle-class. You won't find many Spanish speaking people here on a Friday or Saturday night. Most have headed to the new music barrios on Smith Street.
Once on Brunswick Street I dropped in on Paul Elliot, founder of Polyester Books and scored a great interview. Clearly street (e)scape needn't stop at GATEways. Everyone I meet unshackles yet another hidden history, the few that remember them and reminds me of the short time that remains for so many precious memories to be forgotten.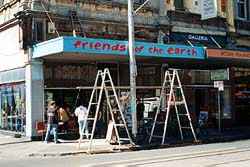 Smith Street
I completed these notes whilst sat in the Mama Vittoria Café on Smith Street. The café is home to Melbourne's best known pasta family with the graceful and generous matriarch, Vittoria Tonin at the helm.
The café started off as a pasta house, the rear of the premises a pasta factory of unequal quality. I recall three tables max, great coffee and the most tasteful and filling foccacias ever. Two years ago, maybe less, they expanded. Hot pasta is now served for lunch, gleeful faces preparing food and coffees, Robert, Mammas eldest, presiding over the entire operation with his Cheshire face, human and boistress cheek.
I come here for the clatter and warmth that one can only find in the remnant memory of families long gone by. Robert offered to tell me a few stories, but this would have to wait for an extended street (e)scape. I know he will have much to tell and I would want to listen - this time without pause on hold!