Toy Satellite - Andrew Garton

street (e)scape - commerce descends Lygon, Brunswick and Smith Streets
on site und on line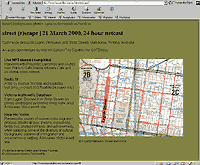 An examination of the old cultural manifestation of immigrants, who settled in the multicultural street areas of Carlton, Fitzroy and Collingwood. The quarter was and is still a traditional target for migrants, in particular for Vietnamese, Chinese, Greeks and Italians. Just recently, this quarter is being targeted more and more by real estate speculation and large concern policy.
The trails of these migrants are followed in conversations, their stories and their life today. Themes are the assertion of cultural originalities against the interests of commercialization, the extrusion of creative bohemians from one street into the next, and the small remnants of an old stucture in conflict with shopping centers and business offices. The interviews and the typical street sounds from this quarter form the basis of a sound- and picture installation in the World Wide Web and in the space of Toy Satellite.



Notes on street (e)scape - by Andrew Garton
Sounds from street (e)scape